Development Displaces Klahanie Rabbits
Klahanie Campground and RV Park, just outside of Squamish has been home to once-domestic rabbits and their offspring for decades. Over the years the populations have increased and decreased, depending on factors such as weather and predation. They've been burrowing under buildings, in the wooded areas, and coming out onto the grassy areas during sunny days. Many a visitor has stopped by, bringing carrots and other treats to feed these little critters. While they will take a carrot from your hand, they quickly dart off to enjoy eating their treat alone. At times we counted up to a hundred or more, and sometimes saw young kits, barely a few weeks old peeking out at us from underneath the cabins.
In recent years there never seem to be as many, and on our trip in February 2008 only about a dozen were spotted. By and large it's a short and tough life for all. What attracted our immediate attention, though, is that there is a development proposal for townhouses and apartments to be built on this site. The highway construction and expansion is ongoing, and the entire area is undergoing a drastic change in order to prepare for the 2010 Winter Olympics. Once beautiful scenery and tranquil homes to wildlife are being destroyed by this huge undertaking. It looks like the rabbits will out of luck, as well.
Update 2012: We have always stopped by the Klahanie campground on our trips along the Sea-to-Sky Highway and the rabbit populations, whether it's summer or winter, are never what they've been in years past. The Klahanie Developments proposal that included a five-star hotel and 273 villas, "destined to be the pre-eminent resort destination of its kind in Western Canada" hasn't been built.
There are a number of abandoned trailers and recreational vehicles, very few people, and no rabbits at all. Where it was once a pleasant stop for visitors, there's now just a feeling of emptiness.
April 14, 2012 Rabbit lovers worried about Jericho Park habitat destruction
April 13, 2012 E-mail to Vancouver officials
Waiting for the leftovers No birth control! See what happens
April 16, 2012 Rally for Jericho rabbits and habitat preservation; our media coverage
April 18, 2012 Tiina Mack, Landscape Architect Manager, Park Development, arranged a meeting at Jericho Park, so that concerns raised by citizens and rabbit and nature organizations could be addressed. In attendance was Registered Professional Biologist, Nick Page, who is overseeing the habitat modification. The rabbit warrens themselves appear not to have been disturbed, but birders are worried that nests have been destroyed. Page said that one or two spotters walk with the mower and that hand brush cutters are also being used for the blackberry bushes. It is expected that by diversifying the habitat with native planting that a broader range of species will call the area home.
Update: Following our discussion a modified approach has been adopted. The shrub removal work in the area being restored, other than some minor maintenance, has now stopped. It will resume in the beginning of September when nesting season is over. The Park Board will work with Rabbit Advocacy Group/s to promote respect and understanding for the feral rabbits at Jericho Park. It is the intent of the project to protect wildlife and improve natural habitats.
May 2, 2012 Several very worried citizens contacted us after noticing deep tire treads in behind the fencing of the stockpile compound where a number of rabbits, including young ones about 3-4 weeks old, are living. Work was supposed to be suspended in that area until June. Evidently, Park Operations staff moved rocks from another location into the compound for storage. One can only hope that there was no loss of life. We will be meeting with project managers and Parks next week.
May 15, 2012 A public information meeting about the construction activity will be held in the park on May 28th between 4:30 pm - 6:30 pm. Details to come. New signage has been created and should be up by next week. The rabbits will have to move from the fenced
area and we want everything to go smoothly. If you'd like to volunteer as a spotter or to distribute our brochures, please let us know.
Signs: Rabbit Visiting Area Please Don't Feed
About the restoration project: http://vancouver.ca/parks-recreation-culture/restoring-jericho-beach.aspx
October 2012 We have regular meetings at Jericho Park with the staff overseeing the restoration project. It is on schedule for completion next month. During our walks we routinely come across people with their dogs off-leash, even though this is not an off-leash park. We see this at all hours of the day. There are no regular patrols by animal control or park rangers, nor for that matter, the resources allocated for enforcement. Sadly, we see the rabbits harassed by people and their dogs all the time. Most are unreceptive when asked to leash their dogs. We've found injured rabbits, several deceased ones, and just recently an empty cage where some uncaring person had abandoned their pet. It is important that incidents of concern and/or violations be reported to Parks or Vancouver Animal Control. Be sure to ask for a file number. You can also call Vancouver's 311 no. for assistance or in case of an emergency 911.
November 2012 Expect to see Protect Our Parks signs in the near future. Animal Control Bylaw 9150 and Parks Control Bylaw.
December 2012 Jericho Beach Restoration Project update. Has progressed well, although it's been somewhat weather dependent. The project also required additional and costly foreshore protection works, so finalization has been slightly longer than anticipated. Removal of invasive plants (blackberry, knotweed) has begun, with a timeline for completion of the original Concept Plan adopted by the Park Board being discussed at our meetings. Rabbit advocates will be on hand to ensure that rabbit safety will not be compromised as habitat areas transition from blackberry and knotweed to native plants.
January 26, 2013 The Protect Our Parks signs have been erected at various spots around the development area. People still have their dogs off-leash, even though it clearly states "dogs must be on a leash." This bylaw is being enforced and today we saw a park ranger speaking with an 'owner' who was violating the bylaw. Rabbits were in abundance and many of the regulars came running out from the brush, in anticipation of being fed. We saw freshly cut apple for the rabbits, although the birds were also busily pecking at the fruit.
Recently, we have had several calls regarding rabbits requiring medical attention. Earlier this week one with an infected eye was reported. We are happy to say that the bunny is receiving medical care and being fostered by one of the concerned citizens who called us. We also took one in who seemed to have been put out not so long ago. He (Parker) is the new partner for Tabz, our 8-year-old blind bunny whose friend passed away.
If you see any rabbit that needs assistance, please get in touch with us. It is not an easy life out there. These are domestic rabbits and their offspring that have been dumped. It's an ongoing cycle, one that can be prevented. The lives of these animals matter. You can help.
March 7, 2013

An update to the Jericho Restoration Project was featured on CBC News and we were interviewed. For the story go to:

http://www.cbc.ca/player/News/Canada/BC/ID/2341424319/

For any comments, questions, or concerns contact us @ rabbitadbc@shaw.ca
March 15, 2013 While we cannot provide an accurate figure of the rabbit population, we have a general idea of the numbers in each area of the park. Sadly, volunteers are reporting deceased bunnies as well as people walking with unleashed dogs and on occasion, allowing their dogs to harass the rabbits. Please take pictures and report such incidents. If it's an emergency call 911.
September 13, 2013 Wild rabbits of Jericho Beach: The hares are still there (Photo set) Vancouver Observer
Update: Unfortunately, we did not see the rabbit. We saw plenty of others and also several people with off-leash dogs.
June 2016 An extensive section of the rabbits' habitat was removed by the City of Vancouver this past winter. Unfortunately, a lot of the rabbits disappeared at this time. We were advised by the Jericho Works Yard that the population had been in decline. However, at this time of year there should be young rabbits hopping about, as in previous years. Our group looked in all the usual spots to see if we could spot any, and other than a couple around the sailing centre, none were to be found.
Despite repeated requests for information from various city departments, we simply don't know what happened to the population. We can guess, though.
Summer 2016 Rabbit Advocacy has been contacted several times by concerned area residents, who regularly patrol Jericho Park, regarding injured rabbits, and in one instance, workers had disturbed a rabbit nest during brush removal. Habitat destruction is impacting not only the rabbits, but other species, as well.
September 11, 2017 We were advised that the Vancouver Park Board is working with the Disabled Sailing Association (DSA) to replace the Jericho Pier, and that initial concepts could be reviewed at an upcoming open house or online. Again, worries are being expressed as to the ramifications of such a project.
October 9, 2017 CTV News had a segment on the disappearing rabbits (domestic) from the shores of Jericho Beach. They have been a fixture for decades, but generally only a handful are spotted at any given time. A variety of factors, including predation, plant removal, and illness have all led to a decline, but the greatest impact of all is human activity and intervention.
November 10, 2017 Rabbit Advocacy was contacted by a reporter for a local media outlet interested in doing a story on the 'fate' of the Jericho rabbits now that the Park Board and Sailing Ass'n have committed to a Pier Renewal Project. Naturally, the surrounding environment will be impacted, with reduced habitat for the rabbits. Sadly, human interests always come first.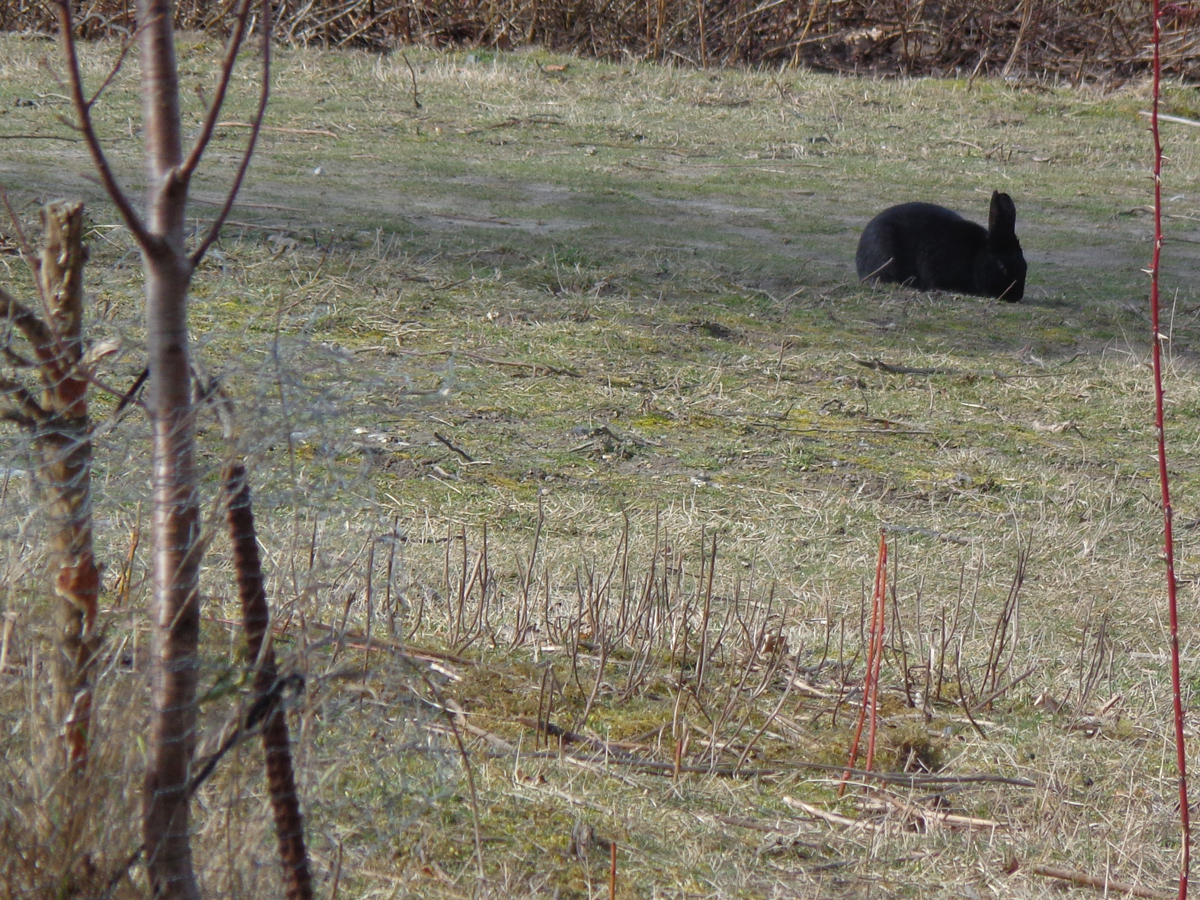 March 17, 2023 Rabbit Advocacy has recently received correspondence from individuals concerned about the clear-cutting of blackberry bushes at Jericho Beach. This leaves the colony of rabbits without much protection from the elements and predation. These are domestic rabbits and their offspring; unwanted pets that have been abandoned. This has affected the natural ecosystem, native wildlife and, they themselves more vulnerable to illness and an early death.
Related news: Nanaimo feral domestic rabbits abound, gov't "experts;" VIU study; Sidney & Saanich issues; breeder busted; 2018 deadly rabbit virus
Read more: Rescue/In Memory/Facts
"Teaching a child not to step on a caterpillar is as valuable to the child as it is to the caterpillar." ― Bradley Miller
"Humanity's true moral test, its fundamental test…consists of its attitude towards those who are at its mercy: animals." ― Milan Kundera