UVic research animals escape negative laboratory stereotypes
Apr 08, 2010 Anne Watson – The Martlet (UVic)
Animals used in laboratory tests are rarely thought of as being treated humanely. But at UVic, Animal Care Services has been striving to treat laboratory animals with compassion and respect for nearly 40 years.
"The Animal Care is part of the offices of Research Services and our mandate is to give the university a service by maintaining animals, which are required for both teaching and research," said Ralph Scheurle, manager of Animal Care Services. The service handles everything from cleanliness and care to husbandry (management and conservation) and environmental enrichment. "[The animals] have air conditioning," said Scheurle. "Even we don't in the summer."
The animals under the care of Animal Care Services range from small rodents, such as mice, rats and rabbits — not the ones that are on campus, says Scheurle — to aquatic animals, including both fresh and salt water fish. "We do not have dogs, cats, primates and have no intention of going in that direction," said Scheurle. The animals are mostly used in teaching upper-level classes and a range of research purposes.
Scheurle says the research is mostly in the animal care facility and for a fieldwork component. "We also now work closely with Island Medical, so we have the medical school working with us and other researchers in the field," said Scheurle.
Animal Care Services has been on campus since the 1960s. It follows the mandate of the Canadian Council on Animal Care (CCAC), which is "to act in the interests of the people of Canada to ensure … the use of animals, where necessary, for research, teaching and testing employs optimal physical and psychological care according to acceptable scientific standards."
The CCAC was established in 1968, and became an independent, nonprofit organization in 1987. Universities across Canada must follow CCAC's mandate when using any animals for research testing.
The CCAC uses the "Three Rs" concept — replacement, reduction and refinement — created by zoologist and psychologist W.M.S Russell. The concept looks to ensure that scientists use animals in research as little as possible and minimize any side effects these animals might encounter. "We use the least number of animals possible but enough animals to make the experiment worth while," said Scheurle of UVic's adhearence to the "Three Rs" concept.
Scheurle says that it is important for UVic students to know that Animal Care Services has the best interests of the animals at heart. "We don't want to use animals unless its really necessary and that hopefully there is benefit both to people and to animals from going forward with this," he said.
Together with CCAC, UVic's Animal Care Services is trying to find increasingly humane practices concerning the use of animals for education and research. "We're aiming to have less animals," said Scheurle.
Comment: Carmina Gooch April 8 at 05:59 PM
Compassion and respect? Imposing harmful and deadly experiments on defenseless little creatures when there are many sophisticated and alternate methods that exist is reprehensible. I'd suggest you abandon this despicable and archaic testing and employ methods like in vitro cell culture techniques and computer-modelling, for example.
UVic's reputation is going down the drain, what with the administration also determined to slaughter the campus rabbits, despite widespread outrage and humane options.
Get out of the Dark Ages and show a little compassion, ethical leadership, and a respect for the voiceless creatures of society.
More comments:
"But at UVic, Animal Care Services has been striving to treat laboratory animals with compassion and respect for nearly 40 years."
Animals in any kind of experimentation are not treated with compassion or respect. The philosophy of animal testing is that animals are not capable of holding rights, or that those rights can be ethically ignored in the interests of the experiment. It's impossible to treat a living thing with respect when you're treating it as a means to an end.
"Scheurle says that it is important for UVic students to know that Animal Care Services has the best interests of the animals at heart." Umm, if they had the best interests of the animals at heart, they wouldn't be conducting experiments on them. Scheurle is misrepresenting what animal experimentation actually is.
How did this piece get published? It's just PR for UVic's laboratory experiments. Why didn't the reporter contact any anti-vivisection groups or the UVic Vegan Association so that it could at least have some balance?
If you want to read more about this, I would suggest checking out Gary Francione's FAQ at http://www.abolitionistapproach.com/faqs/ and the rest of the website.
- Vivisection in this day and age? I can't believe such a barbaric and cruel practice is still going on! Who at UVic decided that animal spirit is less valuable than that of a human? Until someone can prove that, let's all work to abolish animal cruelty at the University of Victoria!
- Isn't this sort of like writing an article about how little police brutality goes on when your only source is the Chief of Police?
Quotes: During my medical education … I found vivisection horrible, barbarous and above all unnecessary. Carl Jung, MD
Atrocities are not less atrocious when they occur in laboratories and are called medical research.

George Bernard Shaw
Coalition sues U.S. government over failure to respond to animal testing petition
April 6, 2010 NEAVS
WASHINGTON and LONDON, April 6 /PRNewswire-USNewswire/ — A coalition of animal protection groups today filed a lawsuit in federal court against the Food and Drug Administration (FDA) accusing the agency of violating its duty under the Administrative Procedure Act. The lawsuit states that the FDA failed to act on a petition asking the agency to require the use of scientifically sound alternatives to the use of animals in testing to gain approval for drugs and medical devices.

The petition was submitted to the FDA on November 14, 2007 by the Mandatory Alternatives Petition Coalition, a group of U.S. and U.K. based animal protection organizations. The effort would bring the U.S. in line with the European Union, which for over two decades has required that animal tests may not be used when available non-animal alternatives exist. The petition asks the FDA to promulgate regulations that would result in pharmaceutical companies, medical device manufacturers, and other entities regulated by the FDA to utilize non-animal testing methods, whenever such scientifically satisfactory methods are available, to comply with their obligations to demonstrate product safety and efficacy.

The Coalition wants to see the replacement of inaccurate, unvalidated, unreliable and cruel animal tests with scientifically sound and humane methods. It is also concerned about the number of hazardous drugs approved for human use, the harm they cause to millions of people and the inability of animal testing to detect and prevent these serious consequences.

Coalition Spokesperson, Geneticist, Dr. Jarrod Bailey notes: "Many reliable testing methods are available, with more in development, which can produce safer and more effective drugs than current animal methods. It is urgent that the FDA demonstrates the leadership required to adopt modern, humane testing methods. The U.S. lags behind Europe in ending cruel animal tests when better alternatives are available. The time for action is overdue."

Members of the MAP Coalition include the American Fund for Alternatives to Animal Research (AFAAR); British Union for the Abolition of Vivisection (BUAV); In Defense of Animals (IDA); and the New England Anti-Vivisection Society (NEAVS). The petition was supported by other animal protection groups, as well as physicians, scientists, veterinarians, professors, and individuals interested in reducing unnecessary animal testing. The Coalition is represented by Katherine Meyer of the public interest law firm Meyer Glitzenstein & Crystal.
End the Use of Domestic Cats and Rabbits in Dissection at Langara College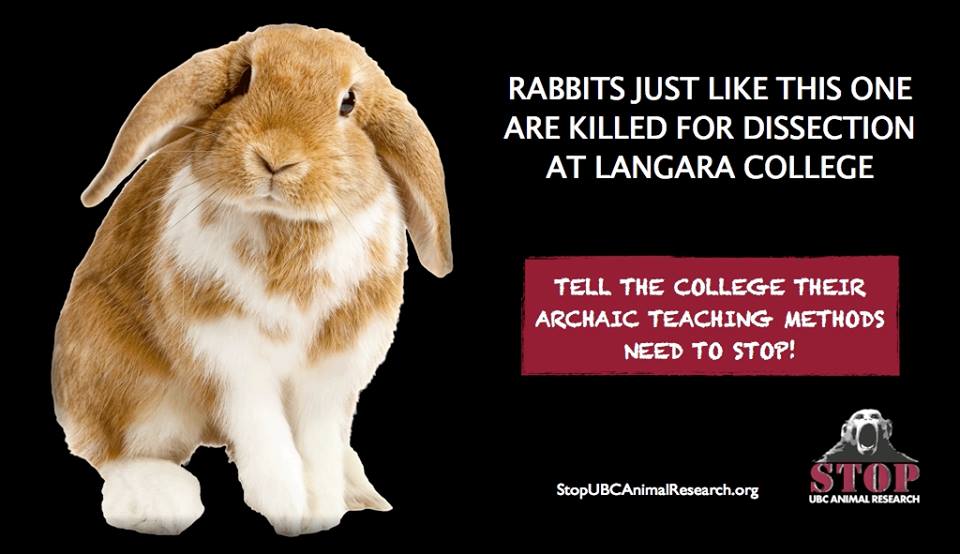 January 27, 2015 change.org petition
President, Langara Community College Dr. Lane Trotter

Dean of Sciences, Langara Community College Dr. Margaret Heldman

Department Chair, Biology, Langara Community College Dr. Mario Moniz de Sa

Biology Instructor, Langara Community College Anoush Dadgar

Lab Instructor, Langara Community College Sandy Connors
I am deeply disturbed that in spite of concerns raised by humane education advocates, your college is planning to use animals, including domestic cats and rabbits, as part of your Biology 2350 Comparative Vertebrate Anatomy class.

As you know, many superior, humane alternatives exist to the harmful use of animals in dissection. These alternatives have been shown to have scientific, ethical and economic advantages over harmful animal use, and give students access to and experience in tools that reflect best practices.

It's time for you to listen to your students and humane education advocates and end your archaic use of animals in dissection.
Read more: Speaking out against animal experimentation; UBC on defensive
Alternatives phasing out animal testing; new cosmetic test uses protozoa instead of rabbits
Boycott heartless research; buy cruelty-free; EU ban 2013; 2020 stats
See more on our Animal Exploitation page