Law forced killing of roosters
Saturday, March 01, 2008 Larry Pynn & Kelly Sinoski, Vancouver Sun

When two roosters duke it out in a cruel and illegal cockfight, one may die.

But when authorities bust an illegal cockfighting ring, all the birds must die.
The injustice of federal legislation was enough to bring the SPCA's Eileen Drever to tears Friday as she provided details about what is considered Canada's largest cockfighting ring, in the Cloverdale area of Surrey.
"Our staff work for this wonderful organization because they love animals," said Drever, senior animal protection officer. "Because of the legislation, we had no choice but to destroy the birds. "It angers me that all these birds had to lose their lives in the name of sport, a game."
SPCA officials armed with a provincial court order on Wednesday and Thursday killed a total of 1,270 roosters at two sites.
The larger of the two was a 15-hectare farm in the 4800-block of 168th Street. The action followed a lengthy investigation by the Integrated Illegal Gaming Enforcement Team, a partnership between the RCMP and the province's Gaming Policy and Enforcement Branch. Drever noted that some of the roosters had missing eyes and legs and puncture wounds to their bodies, adding, "If we didn't destroy these birds, they would have died a horrible death."
At the farm site, more than a hundred black garbage bags were stacked in five separate piles along the driveway. In some of the bags, dead roosters were clearly visible, their necks broken and their feathers ruffled; beaks and claws poked through the plastic of other bags. The bags were piled alongside a makeshift fence of lumber and corrugated iron, behind which were sheds and rows of wire-mesh-covered chicken coops and blue and white plastic barrels, which were used to house the roosters. The area was littered with scraps of lumber and metal and junk such as old cars.
Jay Yip, whose family owns the property, said he was shocked when police arrived at the family home Wednesday morning with a search warrant and suggestions that a cockfighting ring was operating there.
He said his family had rented out about half the property, which was on the other side of the driveway, since 2000 to eight to 10 tenants who wanted to raise livestock, including pigs and goats, after growing hay on the land proved unprofitable. The roosters had been on the site since that time, he said, but he rarely crossed the road to see what was going on.
Yip said he was aware that the roosters' owners often shipped birds to the Philippines but didn't believe police reports that there was a cockpit on the property. He said he had wondered why the tenants had so many roosters and why many of them were tethered, but said he figured it was done so they wouldn't fight each other. "I still don't understand why they were killed," he said.
Marcie Moriarty, general manager of cruelty investigations for the SPCA, said Section 447.2 of the Criminal Code requires the destruction of birds on a property where a cockpit has been found.
"We were left with no choice," she said, noting she supports a legislative change allowing flexibility on how to handle such roosters on a bird-by-bird basis. "Had we not done that, we'd have been breaking the law."
No cockpit was found at a third site, where about 50 roosters were allowed to remain despite the discovery of cockfighting paraphernalia. The site, in the 16300-block of 50th Avenue, has a similar set-up to the one on 168th, with plastic barrels with holes cut in the bottom to house the tethered birds and junk littering the yard. "There is no doubt in our mind this will continue," said a frustrated Shawn Eccles, chief animal protection officer for the SPCA.
Moriarty added: "The suffering these birds go through in the ring is absolutely unacceptable. It should never be entertainment. We hope to have crippled the industry in B.C., and we'll continue to be vigilant."
Geoff Urton, senior farm animal specialist for the SPCA, said the birds were killed by "cervical dislocation," which is an approved method of euthanasia by the Canadian Council on Animal Care and causes "rapid loss of consciousness" by severing the spinal cord.
Yip said he has been told by Surrey bylaw officials that he will have to demolish the makeshift sheds and coops on his property as well dispose of the junk and the bags of dead roosters. He said officials had recommended he bury the thousand-plus birds. "I've got to demolish all this," he said, waving his hand at the site. "Well probably turn it into a blueberry field."
Yip said his father was so shocked by the allegations that he didn't go to work Friday, while Yip stayed home to field a stream of calls and visits from media. He said he was worried the notoriety will affect his family's reputation even though they didn't know what was going on. "It's never-ending. I figured I might as well go out and set the story straight," he said. "It's been a rough couple of days. It's a bad situation altogether."
Charges will be sought against up to 30 individuals, predominantly members of the southeast Asian community, under Criminal Code sections related to unlawful fighting of birds and unlawful keeping of a cockpit.
Moriarty added she also believes maximum penalties are too low at six months in jail, a $2,000 fine and a two-year ban on keeping animals. "It's ridiculous, an absolute slap on the wrist. We need more effective legislation."
Under current laws, Eccles said, the SPCA had sought charges against 37 individuals after the discovery of an illegal cockfighting operation in Burnaby. Only three were charged, resulting in just one conviction with a minor penalty. Eccles explained that a cockfighting ring is typically 3.5 metres by five metres, with a dirt floor and wooden walls behind which people stand and bet. "From what we've been told, bets of up to $5,000 were wagered on individual fights," Eccles said. "We know there are significant amounts of money."
Sharp blades about six centimetres long are attached to the roosters' legs. The birds are weighed before the fight, so the competition is even. A top fighting cock might be worth well over $1,000. "It's one of the few blood sports that has managed to survive since ancient times," Eccles said. "These animals are encouraged to fight to the death. They are raised specifically for the purpose of fighting."
When not fighting, they are tethered on a two-metre lead off a barrel and kept in close proximity to other roosters. "They are frustrated throughout most of their lives because they're living in a perpetual state of excitement," he said.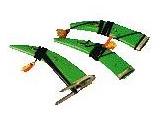 Cockfighting, which is legal and widespread in parts of Asia and Latin America, is banned in Canada. Louisiana is the last place in the U.S. where it is legal, with a ban to take effect in August.
The City of Surrey is seeking to have the buildings in which the cockfights occurred destroyed.
Torturing animals makes mockery of humanity's claim to superiority
Alan Ferguson, Special to The Province

Published: Tuesday, March 04, 2008
How embarrassing that with less than two years to go to the start of the Vancouver 2010 Olympics, the region should be garnering international headlines as an alleged hotbed of the medieval "sport" of cockfighting.
I don't believe for a moment the protestations of innocence voiced by some tenants of the Surrey farms raided by police and animal welfare workers last week.
The brutal tools of the cockfighting trade discovered on site, including the razor-sharp blades that are strapped to the birds' feet, make a mockery of claims the fowl were being bred as a "hobby." And, if it is true, as alleged, that some of the birds were intended for export to the Philippines, I suggest the relevant authorities might want to investigate this barbaric trade.
Another unsettling aspect of the story was that the SPCA itself apparently slaughtered hundreds of the unfortunate creatures.
"If we didn't destroy these birds, they would have died a horrible death," the SPCA's Eileen Drever said. I guess that makes sense to her -- although I confess the logic of it escapes me. As many as 37 people could eventually wind up in the courts over this unsavoury business, though I don't suppose whatever penalties are assessed will amount to much.
The saddest part is that people in this supposedly enlightened age still seek a cheap thrill in the bloody spectacle of a battle to the death of two living things. The emotions engendered cannot be too far removed from those experienced by the full-throated crowds who roared their approval as Christians were ripped apart by wild beasts in ancient Roman amphitheatres.
Even man's relations with his supposed best friend, the dog, can be betrayed by unrestrained human bloodlust -- witness Atlanta Falcons' quarterback Michael Vick, now languishing in jail for his lead role in subjecting pit bulls to cruel torture for fun and profit. It might be argued that pit bulls, like fighting cocks, are only doing what comes naturally.
But when humans, the most highly evolved of all animals, take a depraved delight in exploiting the instincts and habits of "lesser" species, the shame rests entirely with them.
Only in recent years have we come to understand that caging creatures in zoos for the idle amusement of the public at leisure is an offence against nature. But we still have a long way to go before the animal kingdom is accorded the full respect it properly deserves.
Those who truly love animals know that they are in many ways a mirror image of ourselves, with feelings and emotions no less intense because they are incapable of human expression.
The days of the dancing bear and performing elephant are, mercifully, mostly behind us. But it's incredibly sad that some people still take pleasure in tormenting their fellow creatures -- making a sick joke of their claim to a civilized status.
Comments on this story:
Carmina Gooch Tue, Mar 4, 08 at 03:09 PM
I can't think that our arrogant claims of being the superior species are shared with the non-human inhabitants of this planet. And those, like the SPCA, who are supposed to be protecting and speaking for animals, have the audacity to justify their actions? Those poor birds, revictimized again, and paying with their lives. It's a sick world, full of suffering, that we've created.
Cockfighting ringleaders avoid jail time
June 10th, 2009 Jill Drews

Two of the five men given fines and probation
SURREY (NEWS1130) - Sentences have been handed out to the men behind a huge cockfighting ring in Surrey last fall. Two of the five men involved have been given $750 fines and one year probation, while charges against the others have been stayed.
The B.C. SPCA is disappointed not one of those responsible will be going to jail. Over 1,200 birds were tied to barrels with several of them suffering from fight related injuries, and each one had to be put down.
Shawn Eccles with the B.C. SPCA says this punishment doesn't make up for the damage done, "The emotional toll on our officers was significant. As we said at the time, we're here to protect animals. We're not here to take animals' lives and we had to take animals' lives in order to protect them."
He says some groups are getting tired of fighting when the tools they need aren't there, "A lot of the animal welfare groups in the province and in Canada have sort of gotten tired of taking the fight to Ottawa every year and having to deal with all the senate hearings, and parliamentary hearings to try and amend the legislation."
He says he hopes the criminal code can be strengthened to better protect animals because current laws aren't enough.
New animal cruelty bill introduced into B.C. legislature (taken from BC SPCA press release)
March 6, 2008
The proposed amendments to the Prevention of Cruelty to Animals Act, introduced by the Honourable Pat Bell, Minister of Agriculture and Lands, address several significant gaps in B.C.'s existing animal cruelty legislation.
The proposed bill includes the following key changes:
Expands the definition of distress beyond "inadequate food, water and shelter" to include animals who are deprived of adequate ventilation, space, care or veterinary treatment. This is particularly significant in cases involving overcrowded puppy mills, dogs left in hot cars, situations in which livestock are contained without adequate space, animals deprived of veterinary care and other cases where officers have not been able to intervene unless an animal was in critical distress.


Enables BC SPCA constables to obtain a warrant to seize an animal using the telewarrant system - a life-saving change for animals in distress in remote locations. In the past officers in remote areas have sometimes been forced to delay helping an animal in distress because a judge was not available in the area to issue a warrant. With the ability to obtain a warrant via telephone, BC SPCA officers can enter property and act immediately to help an animal in distress.


Increases the maximum penalties handed down under the PCA Act from $2,000 to $5,000 and to $10,000 for a second offence. In the case of repeat offenders, such as puppy mill operators, the fines will now be a significant deterrent.


Increases obstruction of justice penalties in animal cruelty cases from $100 to $2,000. This provides a significant deterrent to individuals, such a pet stores owners and breeders who refuse to let the BC SPCA inspect their facilities and others who obstruct the investigation of an SPCA constable.


Enables BC SPCA constables not only to search for evidence but to seize evidence of an offence. Logistically it has been difficult in the past to obtain the two warrants needed to seize evidence (one PCA Act warrant to search the property and a second warrant under the Offence Act to seize the evidence). Any evidence found without the second warrant could not be used in the prosecution of an accused animal abuser. Under the new bill, evidence discovered under the PCA Act warrant would be admissible in court.
Moriarty said the proposed amendments are a clear demonstration of the province's commitment to animal welfare. "Passage of this bill will raise the bar on animal welfare in B.C. and will send a strong message to those who abuse animals that this kind of horrific cruelty will not be tolerated."
Meanwhile Canada's Bill S-203 leaves animals vulnerable to cruelty and neglect
Bill S-203 is proposed legislation that maintains the loopholes and outdated language that makes our federal animal cruelty legislation ineffective and largely unenforceable. However, on February 14th 2008, Conservative, Liberal and Bloc members of the House of Commons Committee on Justice and Human Rights passed Bill S-203.(The NDP was the only party to oppose Bill S-203!)
It's not too late to stop S-203! In April all MPs will have an opportunity to represent their constituents and vote against S-203. Call or write your MP.
Why Bill S-203 is flawed:
S-203 reinforces inadequacies and loop holes in the current legislation maintaining its ineffectiveness in gaining convictions.

S-203 continues to make it nearly impossible to punish crimes of neglect.

S-203 continues to legalize the breeding of animals to fight each other.
Canada's animal cruelty legislation is lagging behind other countries such as Austria, Malaysia and the Philippines. This is totally unacceptable. Bill S-203 will do nothing to modernize Canada's animal cruelty laws.
April 10, 2008 Regrettably, Bill S-203 passed with a large majority--made possible with the combined votes of Conservative, Liberal, and Bloc MPs. NDP MPs voted against the legislation.
April 5, 2011 British Columbia plans to introduce what Premier Christy Clark calls the toughest animal cruelty laws in the country in response to the gruesome slaughter of as many as 100 sled dogs near the resort town of Whistler. The maximum penalty in animal cruelty cases will be increased to a $75,000 fine, 24 months in jail, or both. Veterinarians will be required to report cases of animal cruelty, a dedicated prosecutor will be appointed to handle such cases and policies will be created to ensure public-sector agencies also report abuse. These are among the ten recommendations that will be acted upon.
The Criminal Code of Canada has much higher standards for conviction as animals. Animal cruelty is contained in the outdated property section of the Code, and applies only to animals that are 'owned.' The percentage of animal abuse cases that get convicted is 0.1 per cent. Proving wilful intent is next to impossible. Industry and individuals alike are getting away with unspeakable abuses against all animal species, regardless of anti-cruelty laws.
Criminal Code of Canada - Animal Cruelty Laws
October 6, 2019 BC SPCA, RCMP execute raid for possible cockfighting ring at Surrey farm
Several peace officers with the SPCA along with B.C. RCMP officers descended on a farm in the 16600-block of 50th Avenue Saturday morning.

Marcie Moriarty with the BC SPCA confirmed the warrant was being executed in connection to an offence related to cockfighting. https://globalnews.ca/news/5995930/surrey-cockfighting-bust/
Cockfighting

(USA)
Cockfighting is a gambling and spectator sport where roosters fight, frequently to the death, in rings, while players place bets on which rooster will win. Often, sharp implements are attached to the legs of these typically non-violent birds, inflicting massive injuries and pain. The birds used for cockfighting sometimes are given stimulant drugs to enhance their fighting ability and make them more aggressive.
According to the Humane Society of the United States, cockfighting is illegal (at least a misdemeanor) in all 50 US states. It is classified as a felony in 39 states. Notable states that have less severe laws are Alabama, Hawaii, Idaho, and Mississippi (misdemeanor punishment for cockfighting; no punishment for possessing cock or being a spectator); South Carolina, South Dakota, Utah, and Kentucky (misdemeanor punishment for cockfighting, no punishment for possessing cocks, misdemeanor punishment for being a spectator).
Governor Frank Keating of Oklahoma said when outlawing cockfighting in his state that "Cockfighting is cruel, it promotes illegal gambling and it is simply embarrassing to Oklahoma to be seen as one of only a tiny handful of locations outside of the third world where this activity is legal." Since there is no reliable data on the status of cockfighting in the third world, it is assumed that cockfighting is largely legal, unpopular, or laws against it are unenforced amongst these nations. (Source: Wikipedia, Illegal Sports)
Read more: Cockfighting ring busted & roosters euthanized; animal fighting a felony in US states
Visit our Animal Law & Animal Exploitation pages