Pets in need of homes
Charity: Pets In Need Society (2009 update: no longer active)

Contact: info@rabbitadvocacy.com or Animal Rights BC calecdn@gmail.com
It is truly heartbreaking that millions of society's companion animals are without homes. A pet should be a commitment for life, but every day they are being relinquished to the pound, a humane society, the SPCA or to a rescue group. Some are lucky and find new homes where they are valued and cared for. Many others don't. They are killed. Others are abandoned outdoors without a second thought. Many suffer before dying a lonely death. You can help save a life and reduce the number of unwanted pets by choosing to adopt. Support animal causes, actions, and initiatives – be an advocate for our animal friends. They deserve better!
Our local newspapers feature homeless pets for adoption. The pages are supported by animal-related business advertising.
Name: Branson
Picked up outside a local mall.

Good-natured, about 2 years old.

Advice on behaviour and care supplied.
Name: Prince
This little fellow has had a rough start in life

and needs somebody to pamper him.

Neutered.
Name: Rabbits
Lots of rabbits in need of good homes; singles or pairs.

Experienced foster caregivers needed as well.
Name: Snowy & Chad
Name:

Shanda

One of many adult rabbits in need of a home.

Playful and curious. Care information provided.
Name:

Murphy
Neutered male, 4 years old.

Owners travelling south for winter and want a new home for him.

Currently in boarding.
Name: Mature Cats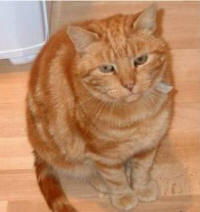 Several mature cats in rescue that need homes.

Laid back and perfect for seniors.
Name: Paige
Female, 5 months old, not used to human contact.

Found in a carrier under a bush.

Special home needed.
Name: Adult Rabbits
Many adult rabbits in need of good homes.

Care info provided. Lifelong commitment.
Name: Perry
Young Fuzzy Lop, neutered.

Lifetime commitment needed.

Other rabbits for adoption, too. See our application.
Name:

Elias
Flemish Giant, will be a large bunny when fully grown.

Saved from the streets.
Name:

Camira
Holland Lop, not too fond of humans.

Rabbit experienced home only.

Needs room to run.
Name: Demi
Left behind on moving day. Give a rescued

rabbit a second chance.

Choose to adopt.
Name: Iris
Bought on impulse as a 'starter' pet and soon

became unwanted. Waiting for that special

someone.
Name:

Rabbits Aplenty
Mixed breed, Mini Lops, Himalayans,

all to approved homes.

Give a homeless bunny a second chance.

Name:

Basil
Active young Hotot found on school playground.

Choose compassion; choose adoption.
Name: Cooper
Surprise gift and owners no longer have time for him.

Very inquisitive, likes to chew.
Name:

Delphi
Has been passed around from one family to another.

She would like a rabbit friend for company in adult only home.

Spayed, about 3 years old.
Name:

Sonny & Hailey
Sonny is the only survivor of a litter of rabbits born five

days after his mom, Hailey, was found injured outdoors.

These two must be adopted as a pair.
Name:

Buttercup
Buttercup and her two friends would like a home

where they can be together. This can be a

10 year commitment for these young bunnies.
Name:

Homeless Rabbits
Given up because they became too much work

and the kids lost interest.

Help make every pet a wanted one.

Name:

Dunlop
Friendly, neutered, and loves attention.

Couple is downsizing and say they can't

take their companion of 8 years.
Name: Romeo
Neutered 7-year-old male looking

for his retirement home. Introverted.
Name:

Iago
Friendly, neutered 7-year-old looking for home

with another senior bunny. Extroverted.
Name: Wilburina
Ignored and neglected by previous humans.

Needs to learn to trust again.

Seeking patient and understanding home.

Name:

Kittens
These lively little kittens were born outside and are

a little skittish. Would like to be adopted in pairs.

Three males and one female.

Name:

Josie
Nice rabbit who would like a home

with another bunny or two.

Previous 'owner' too busy.
Name:

Nina
Only 6 months old, and already looking for a new home.

Commitment of up to 10 years required.
Name:

Bali
Brown/black tabby, spayed, 4 years old.

Friendly lap cat. Prefers the indoors.

Abandoned by previous 'owner.'
Name: Trika
Jersey Wooly, spayed, 6 years old, needs TLC.

Quiet, rabbit experienced home only.

Fact and care info supplied.
Name: Rabbits!
Lots of rescued rabbits currently in need

of good homes. Choose adoption; give a

homeless bunny or two a second chance.
Name: Rabbits!
Name: Digby
Male lop, 5 years old, neutered.

Currently in foster care and looking for a home where he will be pampered.
Name: Hastings
Silver Marten, neutered adult.

Kept in a cage, neglected and unsocialized until he came into rescue.

Adult only home.
Comment: This is a small sampling of cats and rabbits that had been abandoned, in one way or another. Some were given up by their humans, others were picked up as strays or left outside shelters, and some were rescued from Death Row. Circumstances varied, but they all became homeless, and tugged at our hearts. Whether they had been neglected, abused, frightened, injured, or sick, we saw to it they were provided with the best of care. Some have remained with us, and others have moved on to new homes. While these ones were lucky, they are but a few. We're working to make a difference in easing the suffering and homelessness we see or hear of on a daily basis. Please join us by caring and making every life count. Get active. Support no-kill reform. info@rabbitadvocacy.com
Black Cat White Dog has a regular feature of "Pets for Adoption." See Arden & Baxter in the February - March 2014 issue. February is Adopt A Rescued Rabbit Month!
Arden is a likeable, active male rabbit. He is about 2 years old and neutered. Unfortunately,
his family is relocating out of the country and is unable to take him. His favourite foods are timothy hay, cilantro, and apples. If you would like to consider adopting Arden, please note that rabbits can live up to 10 years or more.
Baxter is somewhat shy and comes from a single-rabbit home. He is 6 years old, neutered, and a bit overweight. His foster home has been reducing the amount of alfalfa pellets in his diet and giving him more vegetables and fruit. He is more active now and enjoys exploring the den - rabbit proofed for protection, of course!
Black Cat White Dog has a regular feature of "Pets for Adoption." The Rabbit Advocacy Group of BC networks with local shelters and rescue organizations in giving a second chance to rabbits awaiting permanent loving homes. See Lexie in the April - May 2014 issue.
Lexie is a lovely little Hotot who we found abandoned in a local park. She was frightened and hiding in some brush when we finally managed to pick her up. She has since been to the vet and spayed. Rabbits are prey animals and dumping them into the outdoors is both illegal and a death sentence. Lexie is one of the lucky ones and deserves a new forever home.
Compassion, respect, and justice for those with no voice

- Rabbit Advocacy BC www.rabbitadvocacy.com
The Rabbit Advocacy Group is primarily an advocacy group and as such, any rabbits we rescue stay with us. We network with other groups and shelters, such as VRRA, who have rabbits for adoption. You can also contact your local humane society or another rescue group in your area. There are plenty of rabbits in need of good homes.
Visit our Rabbit Issues Page for more about rabbits.
See our News/PSAs page!
Animals, near and far, need our help and protection now - their lives matter equally--all of them!